who - display all current players
who [-Iaceilmrstuwxy] (for wizards)
who [-aceilmrstuwxy] (for mortals/eternals)
Description
Edit
Show all current players in the game. A '*' in front of a wizard's name means he or she is away from the keyboard, while an 'I' means that he or she has been idle for 5 minutes or more. 'LD' means the player is linkdead. There is no such thing as idle linkdead players.
-I lists invisible players (available to wizards only).
-i lists players who have been idle more than 5 minutes.
-l lists linkdead (frozen) players.
-r lists one random player in the selection.
-s lists players, sorted on name.
-t lists players, tiny format.
-u lists players who are active ("unidle", not -i).
-w lists wizards, not including archwizards.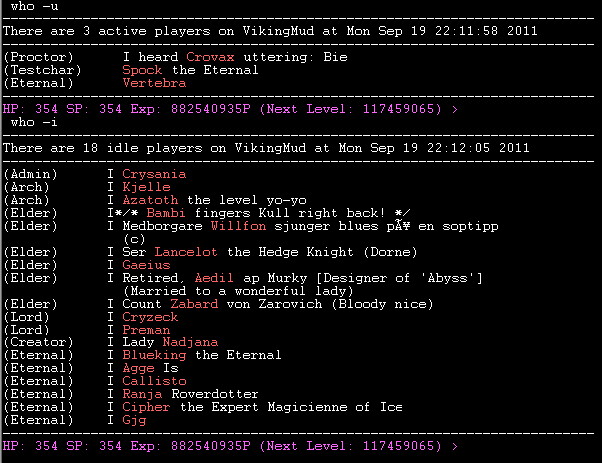 It is possible to combine most options, though some are mutually exclusive. Experiment!
Community content is available under
CC-BY-SA
unless otherwise noted.