toggle - Turns something on or off
toggle <option>
Description
Edit
Turns different things on and off. Here is a list of the current options and what they mean:
paging - Turns off paging on some of your output. This means you can get text one page at a time
debug - This shows if you have "debug mode" on. Only wizards can set this one.
echo - Decides if you want a verbose message or just "Ok." after commands.
brief - Shows short descriptions when entering rooms.
busy - (Wizards only): Stops other peoples' output from appearing on your screen.
boldprompt - If you want bold case on your prompt.
boldwho - Show player's names on "who" with bold case.
boldexits - Show room exits with bold case.
autobusy (Wizards only) - Automatically enter busy mode when editing notes, reading mail etc.
abbrev - Abbreviate commands; experimental. It will let you type for instance "tog" instead of "toggle", and if there are several commands matching, you will get a list. Please note that this mode is only experimental, and might "override" some other commands.
iacga - Enable telnet escape codes to tell when a prompt was sent. This will be useful if you use a MUD client that knows how to use these codes.
numeric - Shows "4" instead of "four" in your inventory, with the look command etc.
composite - Shows most descriptions like this: "There are four bottles of beer and a bag here." rather than making a list with one line for each item.
fileexp (Wizards only) - File name completion for certain wizard commands.
expert - If you have expert mode off, you will automatically get a keyword search if you use help on an unknown subject. So, "help weapon" with expert mode off would become "help -k weapon" if there is no help file called exactly "weapon".
reonlt - If you wish for the lt command to be updated by the use of re, "toggle reonlt".
shopquiet - If you have shopquiet mode on, you will not get a list of every item someone sells, but rather simply a single message that "Foo sells some items".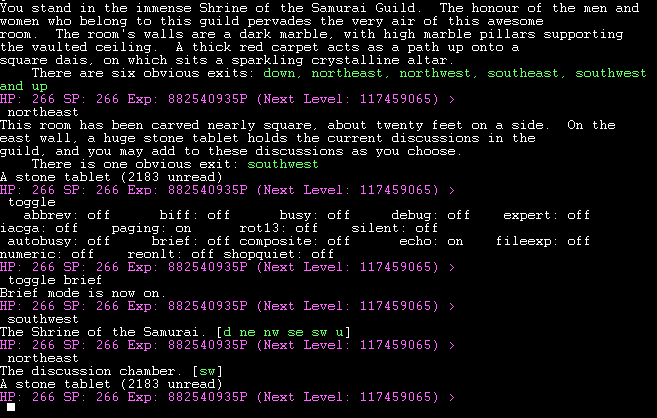 You can abbreviate the argument to toggle. "toggle ia" does the same thing as "toggle iacga".
Community content is available under
CC-BY-SA
unless otherwise noted.