Description
Edit
This command shows you what you carry. You can give an argument, either "tag" or "untag" which will show you only your tagged or untagged items. An asterisk (*) before the item(s) mean that these are tagged. (See tag further down). Note: You can use the 's' argument to sort your inventory by type. The 't' argument will only list tagged items, and the 'u' argument will only list untagged items.
'tag <item>' will make an item unsellable in the shop. It will also keep you from dropping it with the 'drop all' command, although 'drop <item>' will still take effect.
'untag <item>' will make tagged item sellable again.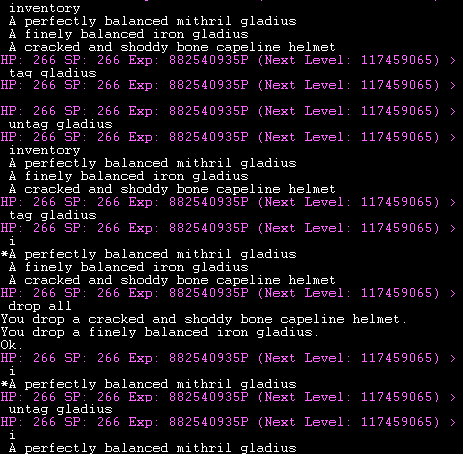 Community content is available under
CC-BY-SA
unless otherwise noted.